EASY HOMEMADE BABY WIPES

HOMEMADE WIPES - use them for baby, or for cleaning up messes! No more over-spending on non-toxic wipes, this super simple recipe takes just 10 minutes and only 3 ingredients! >> https://everydayfull.com/homemade-baby-wipes/

Posted by Full Of Days on Thursday, October 5, 2017
Easy 3 Ingredient Baby Wipes
Because us mamas don't have time to run to the store for more wipes!
Ugh! How many times do I have to forget to order more baby wipes on Amazon Prime BEFORE I'm completely out!? 
(Seriously, ya'll are Amazon Prime members by now, right? If not, you should be! Especially when you can try Amazon Prime FREE for 30-Days!)
Who else is with me on this? And I don't know about you, but I don't have time to hop in the car and run to the store before changing that stinky diaper, once I notice those wipes are gone!
Imagine my surprise when I found out a roll of good ol' paper towels does the trick…and quite nicely might I add! So nicely, in fact, we've been using nothing but these homemade baby wipes for the past 9 months! THEY'RE THAT GOOD!
The best part is, I always have paper towels (ahem, thank you Costco), and I always have the 3 ingredients needed to make these wipes. Even if I run out of avocado oil, olive oil works in a pinch. And if I run out of shampoo (guilty), then non-toxic liquid dish soap works as a perfect stand in. The essential oils can be mixed and matched (just be sure they're safe for baby's skin, that's why we love Plant Therapy's KidSafe line!).
So if you, like me, are sick of running out of baby wipes, then give this DIY a try. I have a feeling it's one you'll stick with! But because I'm a realist, and understand making your own wipes may not be at the top of your priority list…these are our favorite store-bought, non-toxic baby wipes!
Homemade Baby Wipes Recipe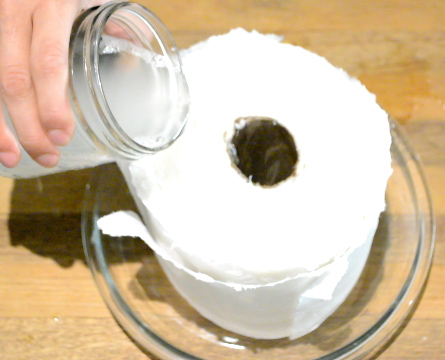 Details
Hands on Time: 5 minutes
Hands off Time: 10 minutes
Total Time: 15 minutes
Directions
Grab a serrated knife and cut your baby wipes in half (or have your husband do it, like I usually do!).
Remove any loose bits of paper towel on the cut side.
Add essential oils, avocado oil, baby shampoo and water into a jar and stir gently.
With your paper towels cut side up, slowly pour half the liquid over the top and wait five minutes to allow it to soak in.
Flip the paper towel roll over and pour remaining liquid over the other side. Wait five minutes.
Carefully remove the inner cardboard tube and start your wipes by pulling up from the inside of the roll.
Store wipes in an airtight container (an old plastic coffee tub or half gallon Tupperware container works great!). 
Baby Wipes tips:
Thick rolls work best as the result is a more durable wipe (if you know what I mean!)
I prefer the half-sheet size. There's less waste and the roll tends to last longer.
When choosing essential oils for scenting your wipes, be sure to use a KidSafe oil. We love Plant Therapy's KidSafe line because there's never any guessing as to which oils are safe for my littles!
If you're not sure how thick your paper towels are, start with less water per side and wait the entire 10 minutes before checking for "dampness". There have been times I didn't pour the water evenly and thought I needed more water, then ended up with really wet wipes!
If you add the full amount of water and still think your wipes are too dry, wait a full 3-4 hours and check again, sometimes the water just needs more time to disperse.
Other scents we like to use: Grapefruit, Mandarin and Sweet Orange.
Looking for More Kid-Friendly Recipes?